Falconry in Qatar is a serious business. The birds themselves can cost thousands of dollars and they take a long time to train, often perched on their owner's arm for several hours a day.
Falconry equipment ranges from the tiny hoods used to cover the birds' heads to hi-tech radio equipment and the fastest 4x4s.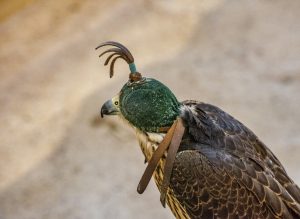 More than just a fashion accessory, the leather hood keeps the falcon calm
The aim of the sport is for the falcon to track its prey; by law, this can only be a species of bustard, the Houbara being the most popular.
In downtown Doha, there's a Falcon Souq, which sells falcons at prices between $2,000 and $5,000, depending on breed. The most common species of falcon used in falconry are the Lanner, the Peregrine, and the Saker. All the necessary equipment used in falconry is sold in the little stalls nestled among the Souq.
You can learn a lot about falconry from the stall-holders, including whether wild or captive-bred birds are best for hunting. There's even a Falcon Hospital at the Souq, where a specially trained falcon doctor can heal sick or injured birds. Falcon owners must respect and care for their falcons, as well as train them.
The hunting season is between October and April. The widespread Lanner Falcon is not migratory. But for other breeds, migration to Africa usually begins at the end of September to early December.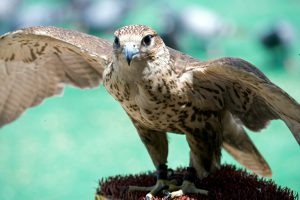 There are annual falconry tournaments in Qatar. One of the most popular is the Qatar International Falcons and Hunting Festival, which runs for a month from the start of the year. Focusing on both hunting and husbandry, owners who have invested well in training their birds can win prizes of up to 500,000 Qatari rial (about 135,000 US dollars).
Falconry is part of the cultural heritage of Qatar. Originally introduced by Bedouin tribes 5,000 years ago, falconry is now hailed as one of the defining sports of Qatar culture.